Hookah served your way. We get it.
anywhere, anytime
Hookah concierge straight to your doorstep.
Kloudista brings the hookah lounge to you, anytime, anywhere! Hookah has the power to transform any party and our top quality and exclusive hookahs, bold flavors and excellent service will take your event, pool party, product launch, or any other life celebration to the next level!
We are the baristas of the clouds, we are Kloudista.
So, what is Kloudista?
Kloudista is the leading on demand, luxurious hookah concierge service in the greater LA area. We bring the upscale hookah entertainment to you. From your birthday party in the hills, to that awesome fashion launch party in Hollywood, we go where you are.

Kloudista makes hookah easy for you. We bring our state of the art hookahs to you, set them up beautifully for your event, and pack and mix the bowls with delicious high quality flavors. Our classy and knowledgeable hosts will attend your party from start to finish, educate your guests on hookah culture and make sure that each hookah has a smooth pull and is smoking hot! Literally.

Whether you have have an indoor or outdoor event, we will ensure that your experience is top notch and unforgettable. Oh, and we we will also clean up afterwards. Zero hassle, just a superb, full service hookah experience like none you ever had before.

Anywhere you are
Pool parties, product launches, roof tops,
birthdays, or anything else. It is your party,
so your hookah. Tell us your time and location,
and we will take care of the rest. We go where
you are. Outdoors or indoors. And oh, don't worry,
we have e-hookahs for those indoor places.

Your hookah, your location, your way.
We'll be there from start to end
Kloudista takes your hookah experience to a new, unmatched level. Our five star service crew will be there from set up to clean up. We will bring and make the hookahs, attend the coals and make sure your guests are blowing big clouds.. Concierge service at its best.
Big Clouds
Ever attempted to make a good hookah? Clouds not thick enough? Burnt taste?
Packing a hookah bowl correctly is not that easy, it takes skills. Kloudista makes it easy for you, just leave it up to the pros!
Quality first
Needless to say, we only use the highest quality equipment and highest grade tobacco. Our hookahs have been tested to ensure a smooth pull and eliminate headaches that those old hookahs typically give you.
In + outdoor
Whether you have an indoor or outdoor event, we have a hookah for you. E-hookah for indoor and coal hookah for outdoor. Our hookahs are appealing to the eye and tastebuds . We got you!
A+ Service
Our mission is to make your hookah experience fun, easy, clean and safe. Your satisfaction is our utmost priority. 5 star customer service is embedded in our DNA. We live for it.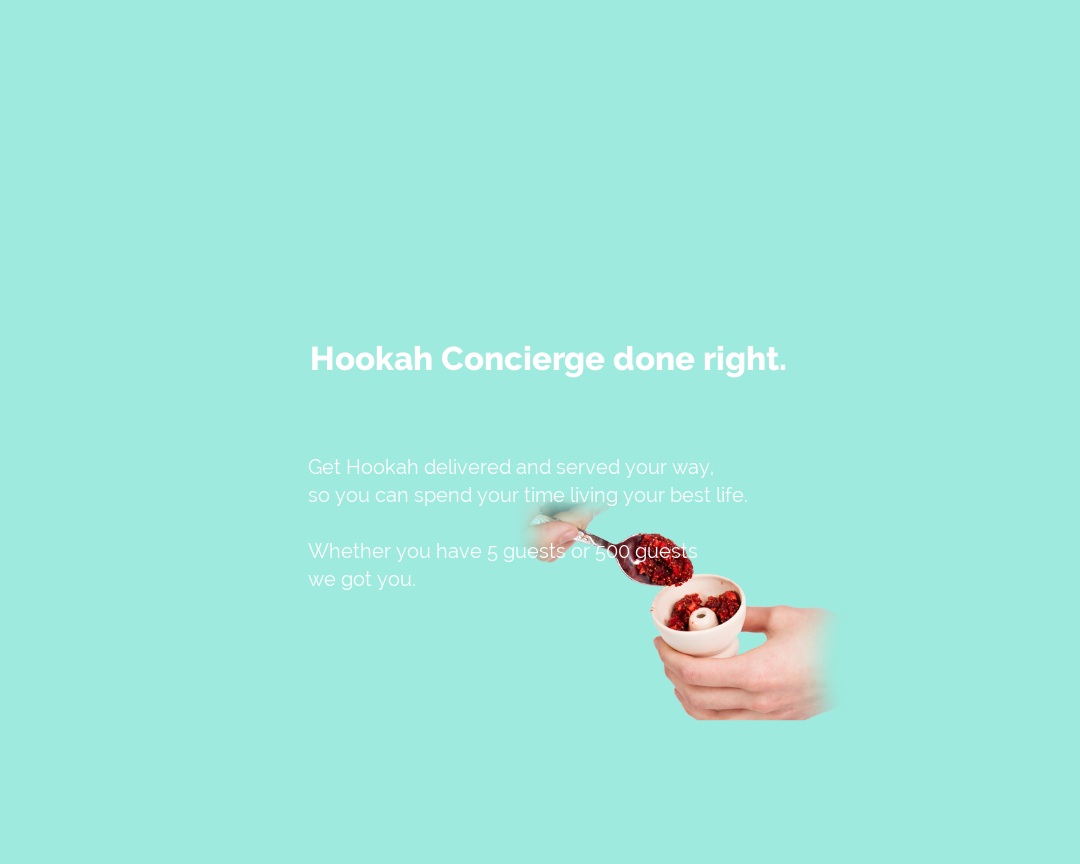 Call (323) 218–0925 from 8am – 2am daily, or book online.

Reservations required. Minimum age to smoke hookah in California is 21.
Downtown LA
West Hollywood
Beverly Hills
West LA


Hollywood Hills
Burbank
North Hollywood
More cities launching soon…
Launching Spring 2019:
Las Vegas, NV
Miami, FL